Let customers speak for us
Berlin Based & female founded
UND Gretel
Christina Roth, international make-up artist and Stephanie Dettmann are there Und Gretel founded a serious alternative to conventional high-end cosmetics. Selected natural ingredients, luxurious pigments with HD luminosity and intelligently composed textures. Und Gretel is not a fairy tale, but belongs to the avant-garde of uncompromisingly natural, cruelty-free and vegan high-performance cosmetics. Made in Germany.
The Aromatic Beautysphere
Lilifox Miami
Welcome to the sensory universe of Lilfox Miami. Founded in 2014 by Alexis Rose. The Miami-based lover of beautiful things is a perfumer, aromatherapist and cosmetic formulation expert. "We developed our high-dose Lilfox formulations for the discerning skin care connoisseur. We blend the finest natural oils, unrefined butter, rare earths and vibrant hydrosols with aromatic essential oils, moonlit crystals and vibrant plant energies. We then refine our elixirs with generous concentrations of clinically proven active ingredients, which further improve the potency and performance of the recipe!
Silky Dreams
BY DARIIA DAY
By Dariia Day is a silk manufacturer for high demands. Dariia Day: "I strongly believe in the beauty power of silk and the importance of self-care. I founded By Dariia Day to offer you the experience of perfect comfort and to help you feel safe and at ease. Our organic collection -The highest quality silk will improve your sleep quality, which is the key to health and well-being. We are proud of every detail of our products!"
For a body in motion
Salt & Stone
Nima Jalali, former professional snowboarder and founder: "Natural, active ingredients from the sea and from the mountains are the basis of our deodorants, sun care and facial care. We combine them with scientifically proven effectiveness and inspiring fragrances. Each product consists of a carefully selected blend of antioxidant and nutrient-rich ingredients, including seaweed, spirulina and seaweed. Aesthetically beautiful products, made in harmony with nature for a sensory experience that soothes, protects, refreshes and renews."
Beautiful skin with a clear conscience: sustainable cosmetics
Sustainable cosmetics without harmful substances not only protect your skin, but also the environment. In order to reduce our ecological footprint in the cosmetics sector, too, sustainable solutions are necessary. Our sustainable cosmetics are plastic-free, non-toxic, environmentally friendly, fair and made from high-quality organic ingredients. Furthermore, great importance is attached to animal-free production and sustainable packaging.
Sustainable cosmetics contain natural ingredients and only raw materials of biological origin. Our skin is our largest organ, so we should take special care of it. Conventional cosmetic products usually contain harmful substances, parabens, mineral oils, silicones and microplastics. But sustainable cosmetics without toxic chemicals ensure beautiful skin without harming the skin or the environment.
Sustainable cosmetics - what makes them special?
However, sustainable cosmetics are not just about ecological ingredients, but also about sustainable and fair manufacturing processes. In principle there are three different certification levels; in the categorization, the focus is on the contained raw material proportions: (1) controlled (2) natural cosmetics, (3) sustainable natural cosmetics with organic content and organic cosmetics.
Products in the first category contain only water and nature-identical ingredients. Only substances that are used unchanged are considered natural substances. Nature-identical substances are preservatives, minerals or pigments that occur in nature but are produced in the laboratory. At least 70% of the ingredients in products with an organic component come from organic farming. With real organic cosmetics it is at least 95% organic products.
Sustainable natural cosmetics - fairly produced and not tested on animals
However, sustainable cosmetics also mean that animal testing is avoided. Although banned in the EU in 2009, animal testing is unfortunately still common in the cosmetics industry. However, pollutant-free, plastic-free and animal-free care products are still not enough when it comes to sustainable cosmetics. Many companies obtain raw materials from agricultural partnerships with developing countries, thereby promoting raw material projects and campaigning for ecological, climate-neutral manufacturing processes as well as fair working conditions and wages. It is also important that the packaging is plastic-free and recyclable.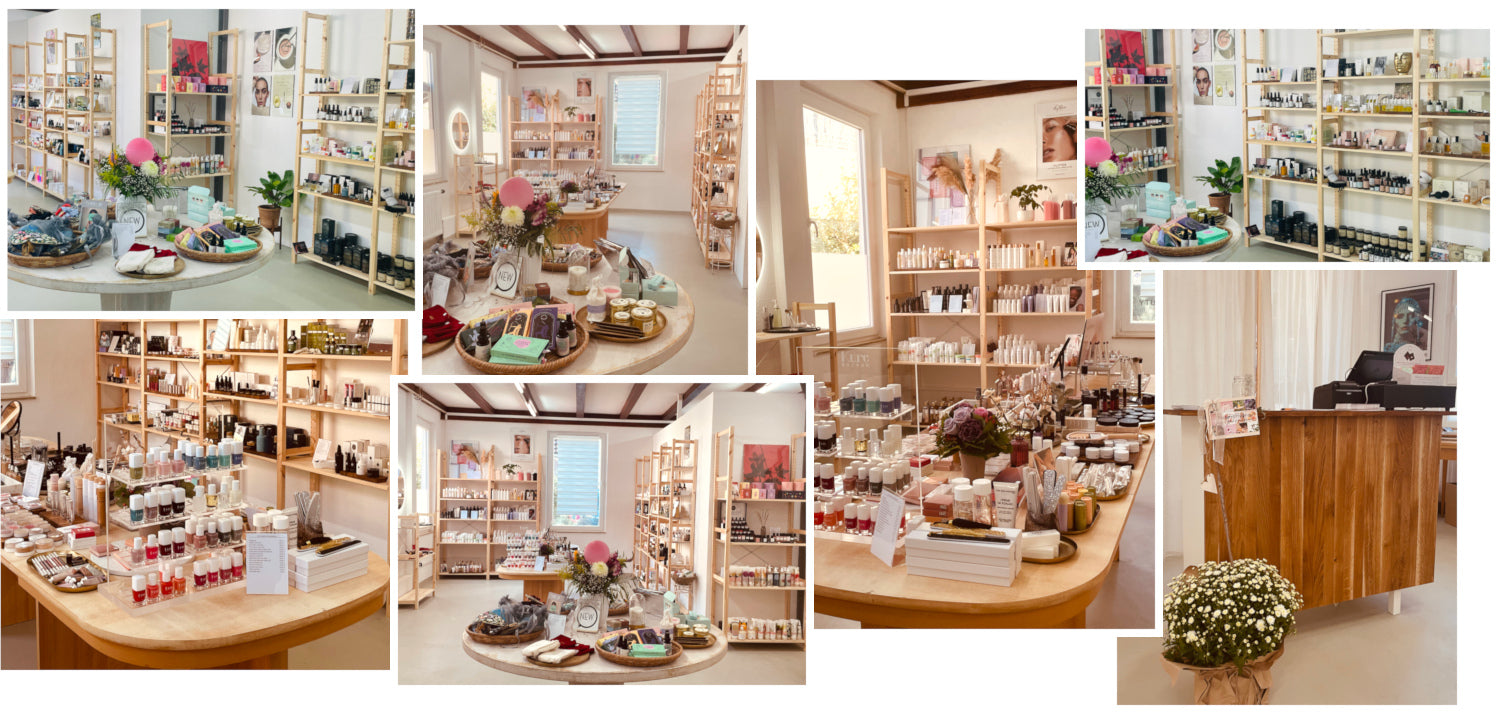 Now open
Our shop is now open!
Wörthstraße 17 / courtyard entrance, 72764 Reutlingen | Mon - Fri 9 a.m. - 14 p.m. | Sat 10 a.m. - 13 p.m
THE ONLINE SHOP FOR exclusive NATURAL COSMETICS
The Blanda Beauty you will find carefully selected natural cosmetics of which we are 100% convinced. Our natural cosmetic products are free from harmful substances such as parabens, sulfates or silicones. They mostly contain ingredients from organic farming and also have a natural cosmetics certification. In our online shop you will find over 100 beauty brands that rely entirely on the power of nature. Our natural cosmetics brands take responsibility for cruelty-free, environmentally friendly and sustainable production and put their heart and soul into the development of innovative and effective natural cosmetics.
WE LOVE DIVERSITY
before we Blanda Beauty founded, we have spent many years abroad, including in multi-cultural Brooklyn and London. We regard the different cultures and lifestyles as a valuable enrichment and it is precisely this diversity that we would like to offer in our natural cosmetics shop for Germany. Whether international niche products, exciting new companies or luxurious natural cosmetics bestsellers - in our online shop Blanda Beauty you will find the best natural cosmetics products from the world of upscale natural cosmetics - some brands are only available at Blanda Beauty. Our curated range of vegan clean beauty cosmetics in the areas of facial care, body care, hair care, fragrances, nutritional supplements and make-up is unique in Germany.
WE WANT THAT YOU ARE SATISFIED
With detailed brand and product information, a comprehensive natural cosmetics dictionary of ingredients, competent advice, fast delivery and excellent customer service, we make your purchase Blanda Beauty as comfortable as possible. Every order contains your sample requests, is lovingly and environmentally friendly packed by us and then sent CO2 neutral.
XOXO, your Blanda team